OUR STORY
Nikkora is a unique healthcare company specializing in cancer care, compression services and women's health. With locations in Connecticut and Rhode Island, Nikkora offers personalized services in comfortable and convenient locations provided by experienced and skilled clinicians. Nikkora is a physician founded ancillary partner to healthcare systems and the patients they serve.
Nikkora serve healthcare providers and their patients by introducing new technologies in recovery and durable medical equipment. We specialize in multi-modal, innovative therapies that treat acute and chronic conditions in oncology, lymphedema, wound care, women's health, incontinence care and post-orthopedic surgery recovery.
WHAT WE OFFER
Nikkora offers a variety of services for both men and women at all of our locations. Nikkora specializes in serving women recovering from breast cancer by providing a full line of post-mastectomy bras, breast forms, active wear, swimwear, sleep wear, head coverings, wigs and more. We also specialize in compression services for both men and women suffering from lymphedema and vascular disease. Highly trained and skilled fitters will assess your needs and provide you with the appropriate compression garment(s) and or pumps including sleeves, stockings, socks, leggings, wraps, gloves, gauntlets and a large variety of custom garments. Also available is an array of products for urinary and fecal incontinence. We carry InTone, InToneMV, Apex, and ApexM as well as Intensity for female sexual health.
Nikkora seeks to provide a complete line of health and wellness products as well as fabulous retail items to help you recover from illness or simply continue to live a healthy lifestyle! We carry beautiful bras, nursing bras, breast pumps for nursing moms, nutritional supplements, lingerie, stylish apparel, and trendy accessories! All of our mastectomy and apparel items are offered in a variety of sizes to ensure we can serve all of our clients. You will find different offerings at each of our locations according to the typical needs and parameters of that location. Some products require a physicians prescription so please call ahead if you are looking for something specific, if you have questions regarding prescription requirements, or to schedule an appointment. We look forward to serving you!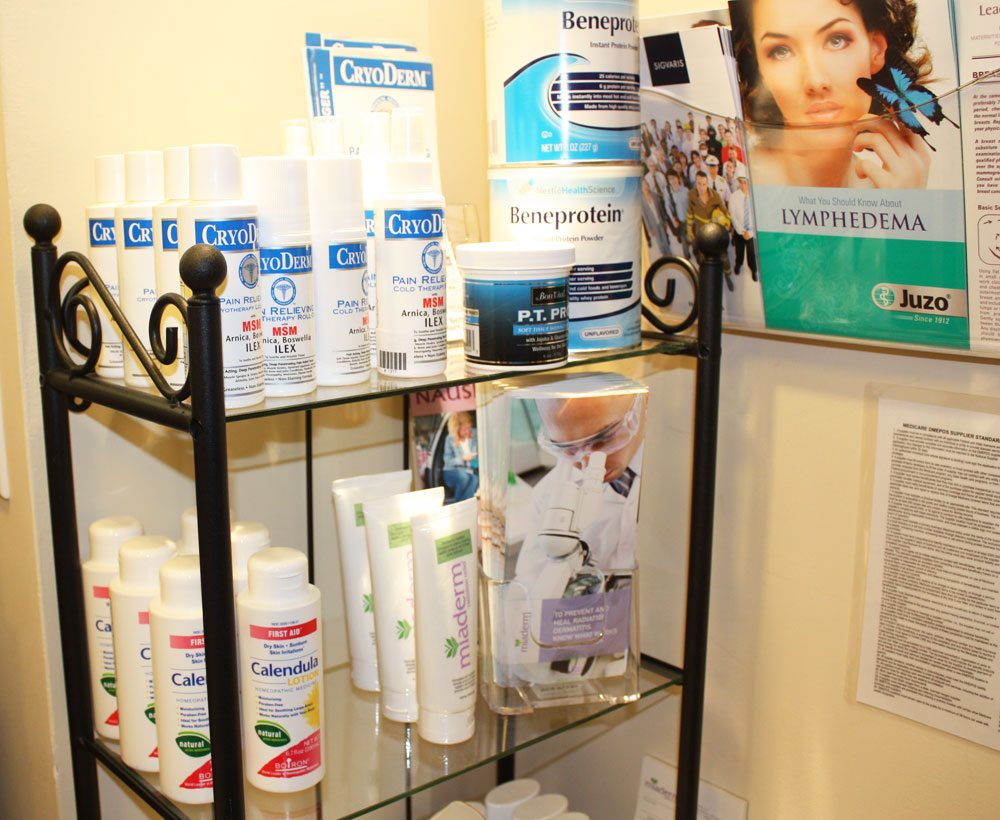 Nikkora is happy to be a part of the beautiful Connecticut shoreline and a partner to Hartford Health Care as well. We invite you to stop by or call us with any questions you may have. Please set up an appointment with one of our skilled, compassionate, certified fitters so that she can set aside the time to dedicate to your needs.
Rose Filiault - Boutique Manager & Certified Fitter, Hartford
Rose is the highly skilled and certified fitter for our Hartford location. In addition to mastectomy, wigs and regular compression, Rose is a Certified Custom Compression Garment Fitter. So no matter what your needs are, Rose can help you find the right product. Rose has spent many years in the Durable Medical Equipment industry and is certified in multiple areas. Prior to DME, she worked in customer service for over 25 years, including owning two successful businesses. Rose has a natural ability to instill confidence in her customers right away and create a comfortable environment even under difficult circumstances.
Away from work, Rose enjoys spending time with her daughter and granddaughter, and also enjoys motorcycle riding in the good weather.
Tykia Jones - Certified Fitter, Hartford
Tykia is a Certified Fitters at the Hartford Healthcare Cancer Institute/Gray Cancer Center at Hartford Hospital. She is extremely compassionate and keyed into the needs of each client she serves. Tykia is an experienced mastectomy fitter, cranial prosthetic (wig) fitter, and compression garment fitter. She has been working in the retail/customer service industry for the past seven years.
Tykia began volunteering at Hartford Hospital Cancer Center in 2006 after her grandmother was a patient there. In her seven years of service as a volunteer, she was recognized for serving over 1000 hours. Tykia was inspired by the wonderful care that her grandmother received at the Cancer Center and felt that she wanted to give back. Tykia clearly developed the gift of connecting with the people she served and we were happy to have her join our staff. When not working, Tykia loves to draw, bowl with her family, vacation and spend time with her fiance.
Lisa Verdi - Patient Care Administrator
Lisa comes to us with more than 25 years in the customer service field, the past five of those years in healthcare. Lisa's keen attention to detail and her training in medical billing and coding make her the perfect person to handle all the insurance needs of our patients. Lisa works diligently with the insurance companies and advocates on behalf of our patients to get the best possible coverage for their products.
Lisa lives in Rhode Island and works out of our Warwick location. Summer is her favorite season and she loves the beach. Lisa is a proud Patriots fan and when not taking care of the many details at Nikkora, she enjoys estate sales with her sister, crafting, painting and shopping!
Kathleen Wilcox - Billing Manager
We are extremely fortunate to have Kathleen on our billing team keeping our staff compliant with the most current rules and regulations and keeping our patients claims processing smoothly. As the driving force in the insurance arena she is our "go to gal" in the billing department and our team's resident cheerleader. (We think old habits die hard). Kathleen's experience as a physician's office manager and her many years as an avid volunteer with both the Soccer Club of Guilford and various organizations within the Guilford Public School system, have served her ability to navigate the complexities of the insurance industry. When not fighting the fight, you will most likely find Kathleen with one of her three sons Austin, Alex or AJ. If not with her two-legged family you will find Kathleen walking the trails of Guilford with her rescued chocolate labs, Hershey and Hanna.